Temple offerings sold at the Mumbai Flower Market
"It will be quite a learning curve for you."
That was no understatement.
We immediately arranged the initial site visit since the wedding was fast approaching.
From this moment until the the moment all candles were lit in the reception ballroom, I was self propelled into a storm of ideas, notes and research which took possession of me in a way that my closest friends regarded as "stressful to be around". Two weeks later I arrived in Delhi and I set out shopping with the bride for fabrics, collecting vintage brass vessels and researching flower sources still without having a clearly drawn out proposal indicating numbers or sizes of tables, floor plans, or timeline ,etc... clearly, flying by the seat of our pants to make this wedding happen! We had a head start with loosely developed story lines posted on a
Pinterest Board
where every possible variation of our themes had been uploaded for inspiration and brainstorming. Within a few days general concepts were established for the three larger events with preliminary sketches and floral samples made at her home: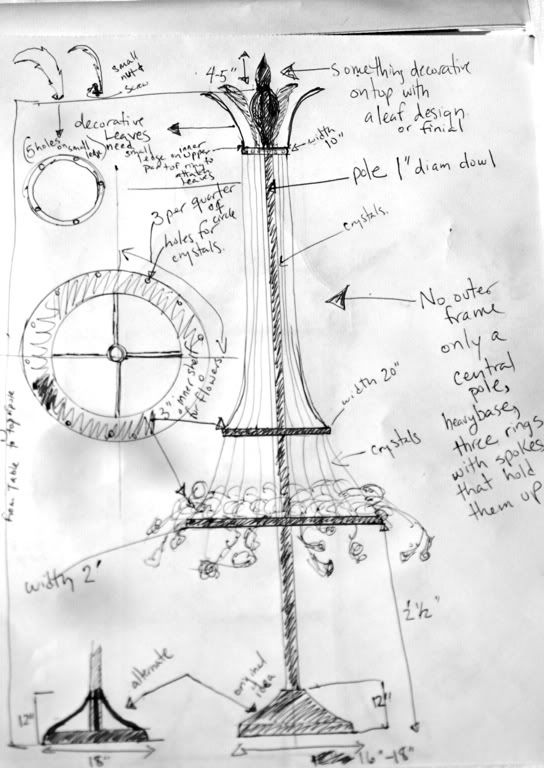 very early preliminary sketches of design components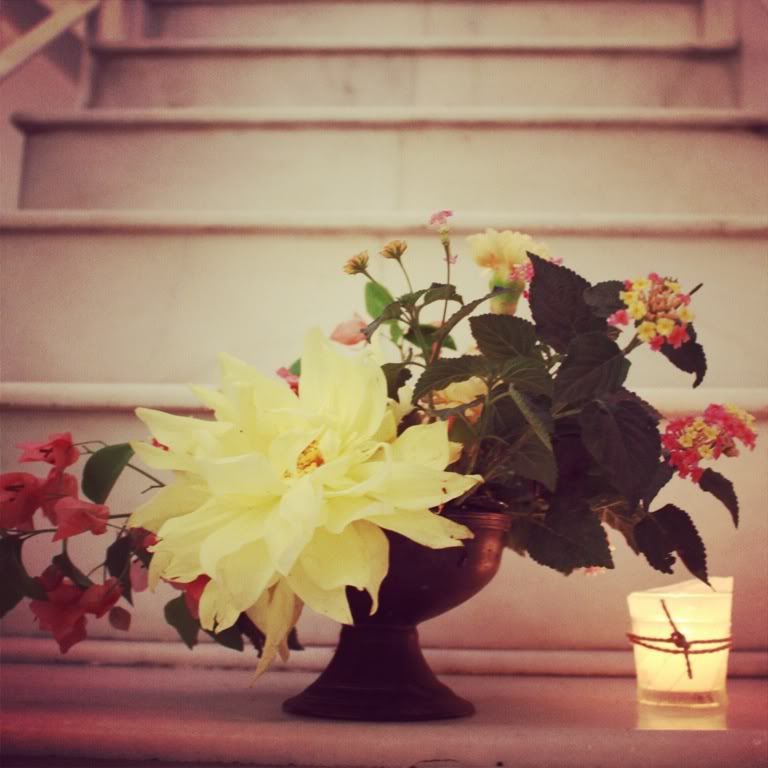 Dahlias from the Delhi Flower market with Lantana and Beauganville
The client expressed that she wanted each event to have a distinct look from the next, so I proposed the following:
•An opening Beach Party under the stars set to a sun bleached color palette incorporating weathered materials like driftwood, jute rope, shells and gauzy windswept elements.
•A Pool Party the following morning at the beautiful hotel Poolside with tailored cabanas and bright saturated tropical flower arrangements on bold graphic printed tablecloths.
•The Baraat Ceremonial arch covered in Butterflies and the antique Rolls delivering the groom at 3PM leading to the
•Wedding Ceremony which was meant to be held on the beach under an Orientalist inspired spire followed by the Dinner Reception in the grand ballroom with towering chandelier tabletop structures and candlelit minarets from which Plumosa fern garland was suspended.
With these ideas in mind we sourced vintage brass vessels from Delhi and Mumbai and sought out flower vendors at both the Delhi and Mumbai Flower markets.
The Beach Party opened the weekend of festivities and 300 guests were welcomed under the stars at Mobor Beach with hundreds of billowing gauze ribbons on bamboo maypoles lit by torches and lanterns on shepherd hooks. Long communal tables were finished with garlands of shells and summer flowers styled down pale gray/blue crushed gauze tablecloths illuminated by candles in hurricane cylinders wrapped with jute rope. 2500 oyster shells had been collected weeks beforehand from Brooklyn restaurants. After bleaching, cleaning and shipping them along with specialty shells bought in NY a dense runner of white shells and driftwood from across the globe ran down the center of each table. The flowers were a combination of succulents and summer flowers from Goa nurseries and foraged locally including giant Asclepia milk weed with unusual waxy lavender blossoms growing along every road we traveled in
Cavelossim.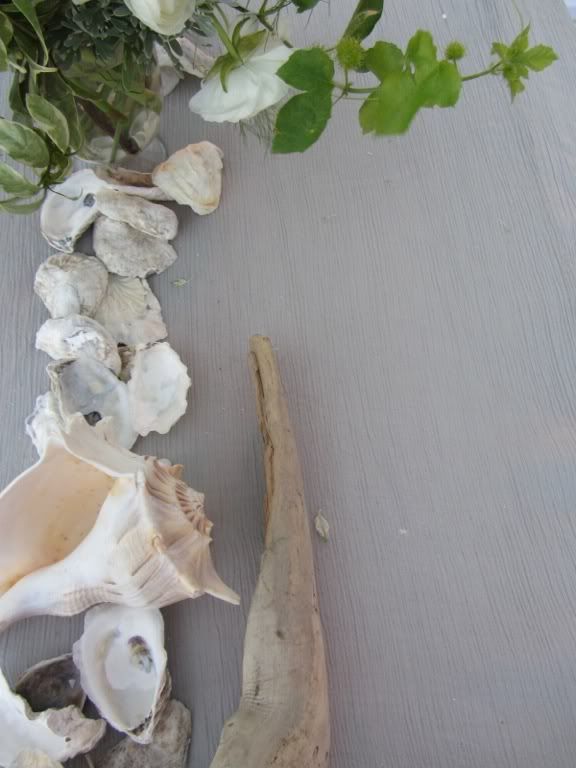 Photo by Beth Horta
Photo by Beth Horta


Photo by Beth Horta
Cement urns had been commissioned by local craftsmen on the first site visit trip. On my second visit I stopped by the cement shop to see the progress of my order and saw the bowls for the urns being cured only days before the event. Nearly every component of this wedding remained an unknown until the very last moment. I was never completely assured of any one thing coming to pass nor did I have the luxury to stop and worry about it. A misguided self confidence fueled by sheer will somehow dismissed more pragmatic reasoning regarding the odds of success for achieving such specific design objectives in Goa.
A day after visiting the cement workshop I was en route to collect hand dipped wax candles which had been commissioned from the the nuns in Old Goa's Se Cathedral Convent for the beach party and reception dinner. I saw a pottery craftsman with his wares on the side of the street and had our driver stop. We loaded up the trunk with small red clay urns and vases which we took back to the cement craftsmen to add the gray cement finish to them. This time we saw the completed urns! Hurray! But could we source the quantity of fabric we needed for the Pool Party's tablecloths in Delhi let alone finding the tailors to sew them and would my floral vendors come through on supplying me with the types of tropical materials I wished for to fill these urns?
Photo by Beth Horta- Horticulture Staff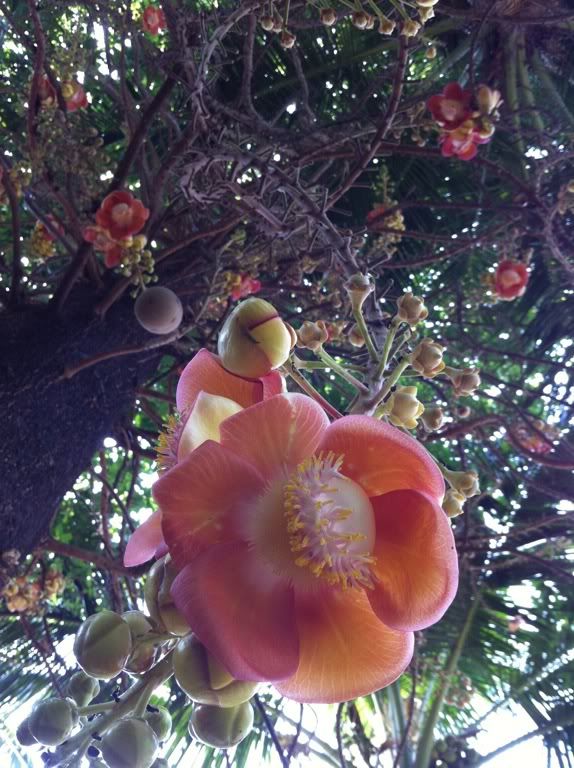 Cannonball Tree Blossom on the hotel Grounds
We finally made it to the convent to pick up the candles and the nun sadly informed us that the local churches had wiped out their inventory a few days earlier. That was just the way it was- orders were meaningless. Luckily combining what we could get from the nuns with the stash of candles I had shipped from NY satisfied our needs for candlelight. Additional candlelight was en route from Delhi with over 600 votives that the mother of the bride had sourced and dispatched.
My assistant Beth Horta from NY would already be at the hotel organizing the room and getting everyone sorted to start flower production when I returned. All I can say is, Thank God for Beth! I really needed 4 more of her but together we made due. She worked at lightning speed maintaining a level of design that only a seasoned pro could master.
The morning of the wedding day guests cooled off from the 90 degree heat and record breaking humidity at the "Pool Party". Tailored canvas cabanas designed and fabricated for the event arrived the day prior to the party and were erected the night before. Crosscraft's production team (A local event company famous for their grand productions) made the undertaking seem effortless. In Delhi we had found a bold black and white graphic block print with an Indian leaf motif which felt very modern and in-keeping with the Kelly Wearstler "Hollywood Regency"style which informed the look and feel of this party. Getting the many yards needed proved a little trickier.
Locally harvested tropical fruits and flowers in cement urns added a burst of saturated color to the black and ivory tabletop and cabana treatment. A local florist a few hours away came through and supplied me with all my tropical fruit needs.
After the guests bathed in the pool in their clothing and participated in the rain dance poolside they retreated to their rooms to change for the ceremonies which lay ahead. The groom was delivered in an antique car decorated for a king to the Baraat ceremony.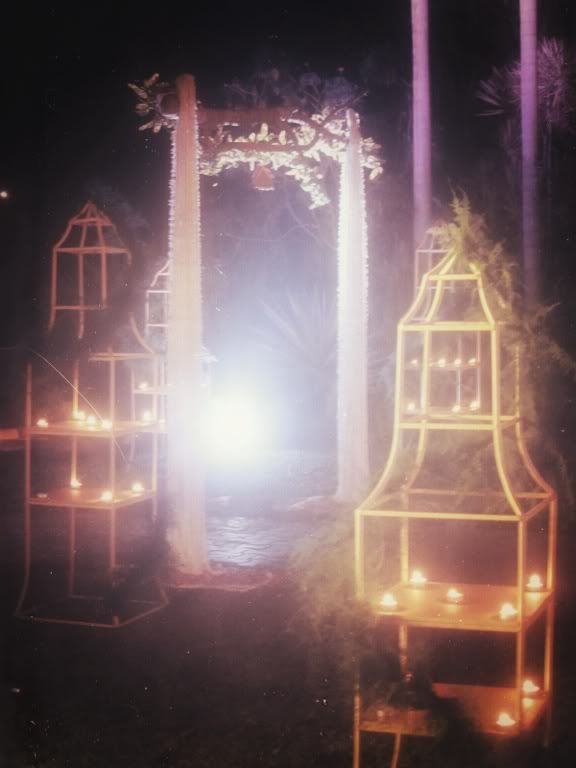 The Baraat Arch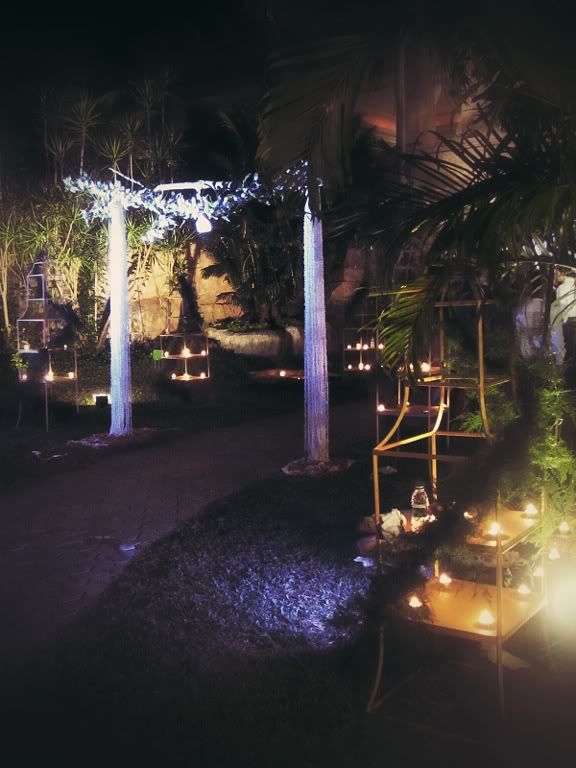 made of found tree branches was adorned with a few hundred butterflies and tuberose garlands
Since the rain cut the beach party short the night before the bride's parents decided to bring the ceremony indoors. This meant changing the original design of the pavilion. It was a lesson on letting go. The design I had worked closely with the production company on was not to be realized. But the ceremony which lasted over 2 hours became an intimate affair in the anti-chamber leading to the ballroom. The bride and groom wore lavish garlands of tropical blossoms and the pavilion top was inverted to fit in the space and dressed with layers of chiffon, tuberose garlands and hundreds of gold tassels. The couple looked like royalty from a long ago time in a tapestry of beautiful pastel colors. The ceremony was something from a storybook. I shall never forget how beautiful they were as they undertook the 7 steps and hours of exchanging vows to each other.
Photo by Beth Horta


Guests walking through the ceremonial structure.
Having heard horror stories about the way things don't get done on time in Goa, I paid a visit to the local event florist a few days earlier to make samples of the hedges and garlands which he had been contracted to make. I couldn't be sure that my samples would make a difference but I put my best foot forward despite a deep seated skepticism given the small window of time his team had to make these enormous hedges along with hundreds of feet of various garlands of Plumosa fern, tuberose and another flower I am not familiar with. This florist recommended by Crosscraft was one piece of the puzzle that fell sublimely into place. I am still in shock by the proficiency and high level of quality with which his team executed everything! The hedges were so perfect they looked fake. The stage backdrop( a 25'x10' hedge finished with tuberose garlands) looked like a painted backdrop. I can only say that these guys were saintly emanations for my tired soul on that last day of production!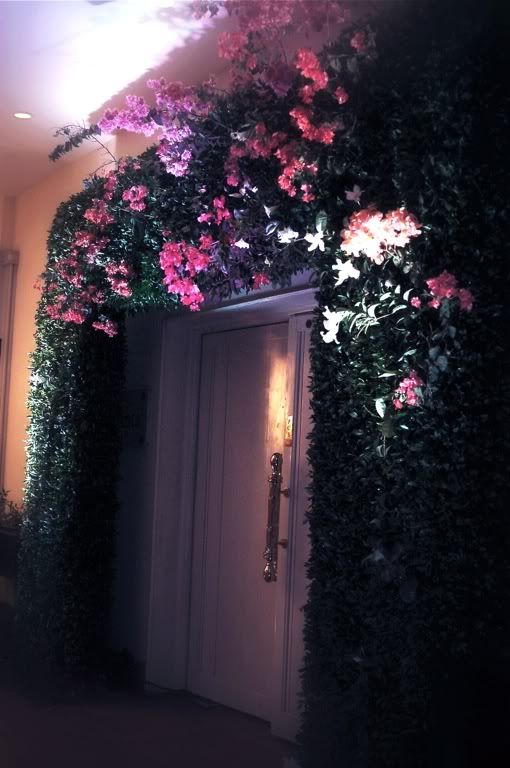 Ballroom Entry hedge with locally foraged Bougainvillea and Mandevilla vines
As the ceremony took place the final touches were added to the reception Ballroom. Of the 600 votives which were expected to fill the room with candlelight only 37 survived the voyage. Par for the course and all that could be done was to make the best of what we did have on hand.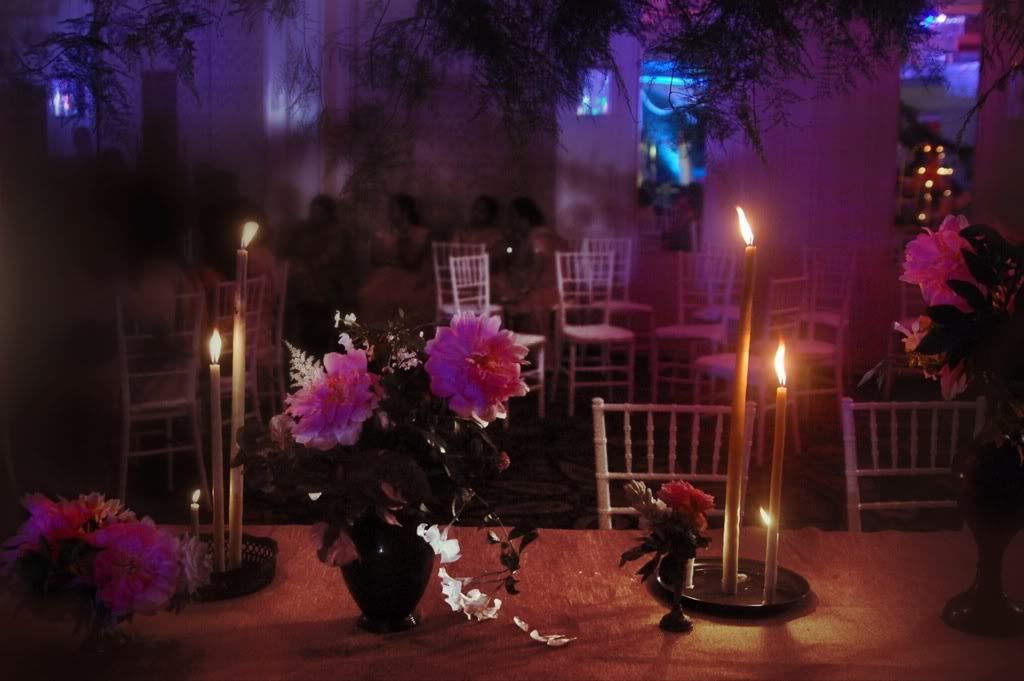 Candles from the nuns at Se Cathedral and flowers from Holland in vintage vases from Indian Bazaars and antique shops.
Strands of Indian summer flowers adorning the chandeliers/candelabras
Photo by Beth Horta
As I sift through the images now I am amazed that Beth, Crosscraft and I achieved what we did. It was an Indian wedding with a New York sensibility. From the beginning I wanted to infuse one element which would tie all three events together. The thread running through each event was the beauty of the natural environment with its exotic flora and rich cultural heritage. Every event had Goa and India woven into it in what amounted to an unconventionally designed traditional Indian wedding produced beautifully against all odds.
My driver Rupesh never saw what I did with all the weeds and I hope he can see this post in Goa, but the day he dropped Beth and I at the airport he waived at us from afar and yelled out, "I will miss you everyday!". Possibly the sweetest person I have ever met and a perfect example of what turned the greatest challenge of my career into a wonderful memory were the people of India and their wonderful temperament. Answers are not always met with a yes or no- possibly is more of a reality. It's India.
Bride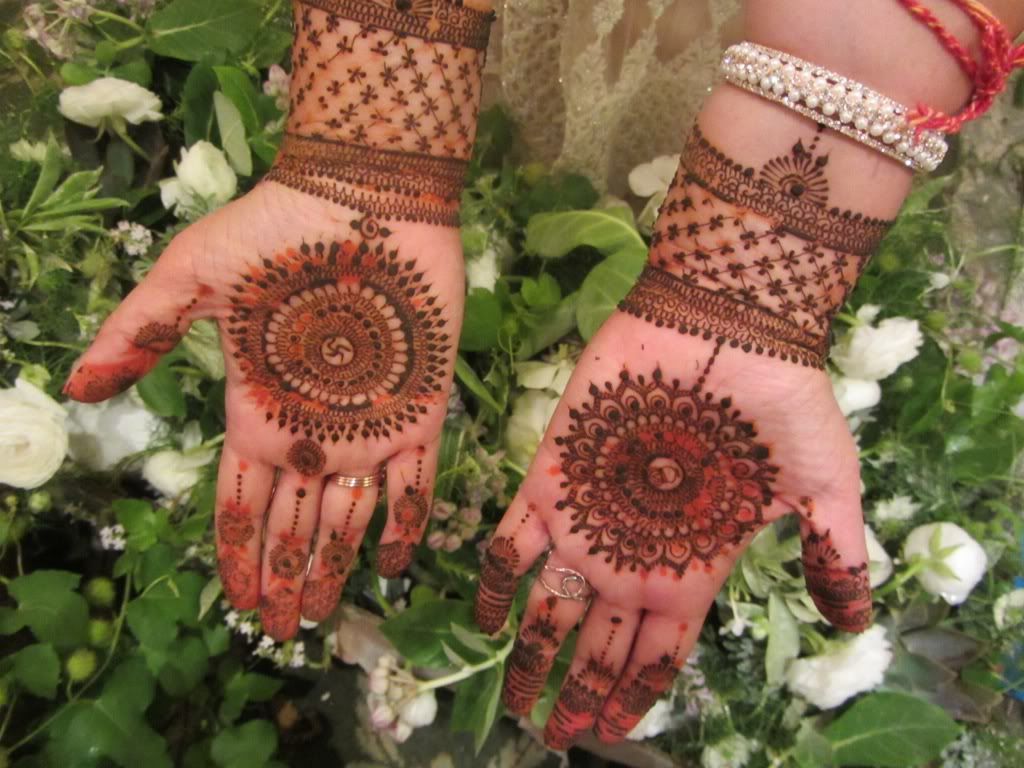 Mother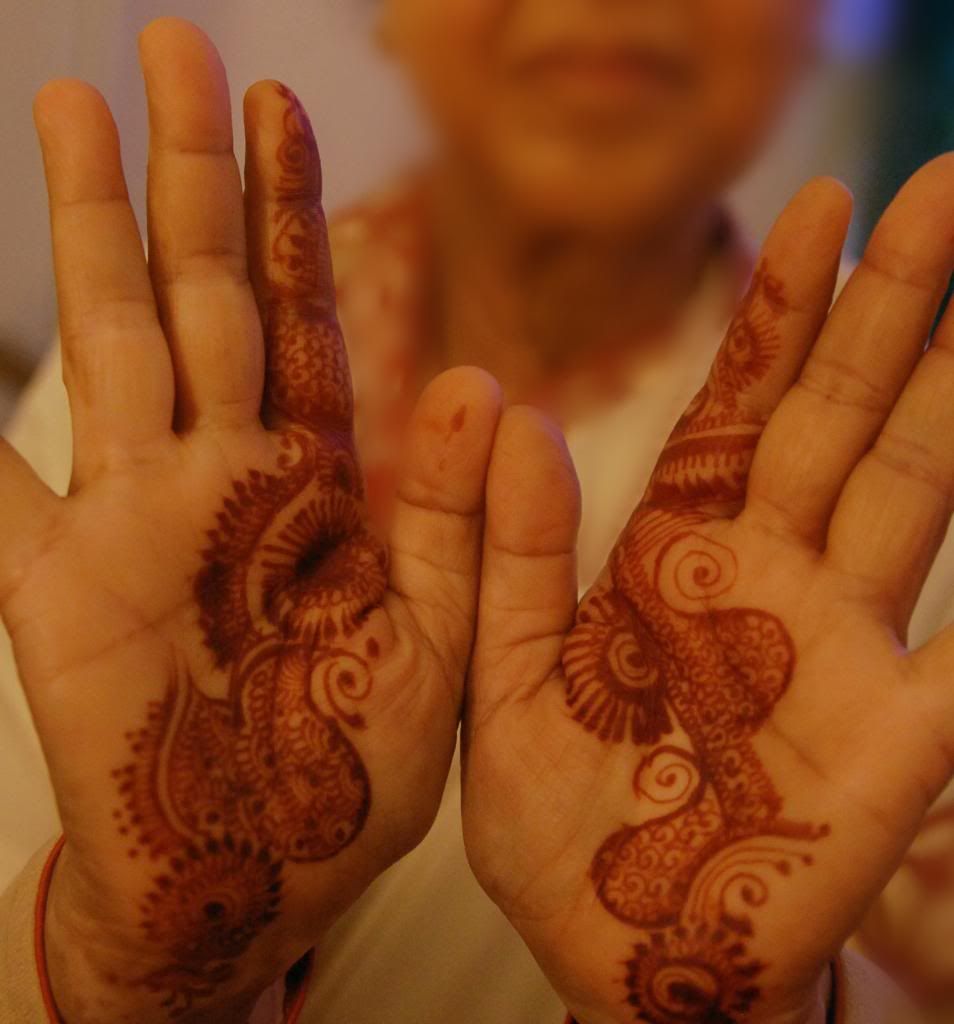 Grandmother