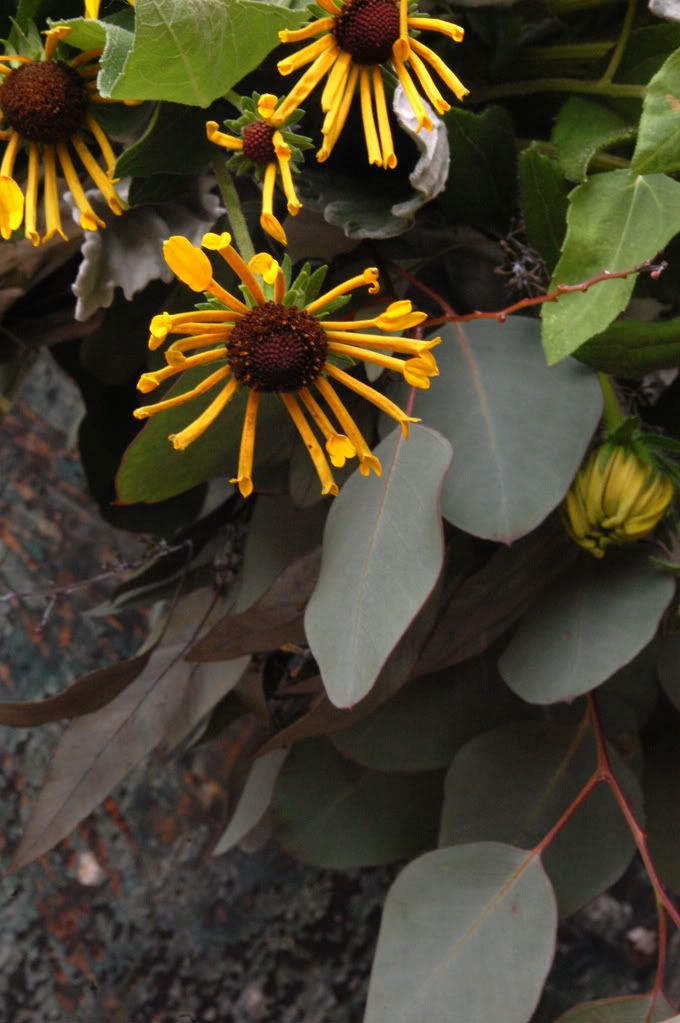 I am the proud mother of two sunflowers which I raised from seeds! Shown here in the first photo the delicate Vanilla Ice Sunflower that looks more like a lemon yellow cosmo and the third macro shot of the Mammoth Sunflower which really doesn't measure up to it's name but lovely just the same. Sunflowers are really dramatic on thier tall stalks and hog up all the sun from the neighboring plantings. Not sure I'll plant them from seeds again but there is something a little more delicate about the homegrown varieties and it was nice to use them in this summer mix of Black Eyed Susans (from River Garden at Union Square), Eucalyptus and Dusty Miller.
This vase had been sitting in my studio now unused for a good 5 years. NEVER used! I was so bored with my other vessels and from the back of the shelf it's long crackled teal ceramic with delicate yellow floral patterns begged,
"Me, me! pleeeeeeze.... I'm the right color, and I'm special TOO!"
So I gave it a whirl and low and behold, I find myself in love!
It's true, it happens when you're least expecting it and with the most unusual suspect.